Dony Face Mask, 3-Ply Antibacterial Mask, Available from Wholesale Face Masks Cloth Exporter from Vietnam
he face mask is the first defense against the menace of the Covid virus. The markets are flooded with various kinds of masks, and consumers are thus in doubt on what to wear to stay safe. The Dony Garment Company is a wholesale face masks cloth supplier in Vietnam, and is pleased to introduce its quality product, the Dony Mask – a Premium, 3-Ply Antibacterial Cloth Mask that is washable and reusable. The company welcomes inquiries for wholesale face masks cloth bulk from Vietnam.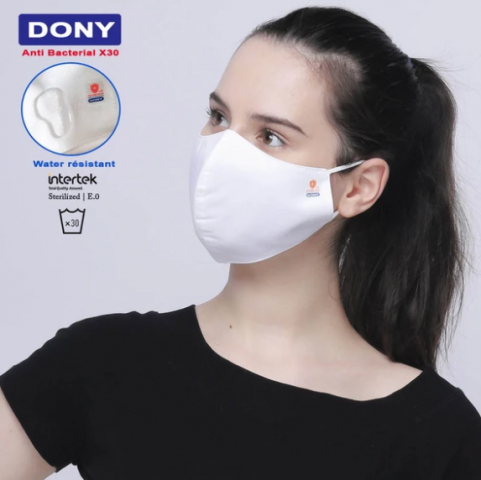 The Dony face mask is water resistant and anti-droplet, and contains a filter bowl and fabric with 99.9% antibacterial protection. Among the three layers, the outer layer is water resistant and stops droplets from sticking, the middle layer offers filter protection, while the innermost layer is anti-bacterial fabric, stopping bacteria and viruses from entering.
Watch wholesale face masks cloth exporter from Vietnam video: https://www.youtube.com/watch?v=qfFJ_7igaRE
Sterilized with Ethylene Oxide gas technology during production, the Dony mask is designed to be breathable with a close fit. Dony's mask production capacity is 275,000 pieces per day. Order inquiries are welcome for wholesale face masks custom manufacturer in Vietnam.
"The Dony Company is the best antibacterial face mask supplier (washable, reusable) for Covid from Vietnam. We are a wholesale face masks cloth exporter from Vietnam and serve clients all over the world," said Mr Henry – CEO Dony Garment.
On June 5, 2020, the Dony Garment Company along with other Vietnamese enterprises donated medical supplies to the US. At a ceremony to mark the occasion, Mr. Daniel Kritenbrink, the U.S. Ambassador to Vietnam extended his heartfelt gratitude and confirmed that the Operation USA Organization based in Los Angeles will distribute the received medical supplies to places in need such as California and New York.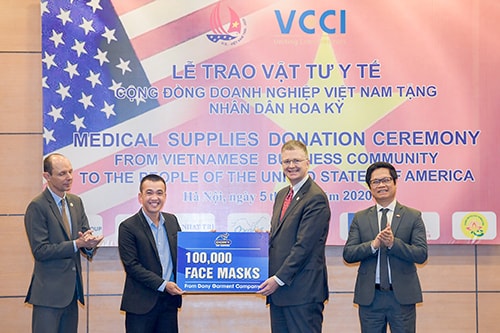 Dony wholesale face masks custom complies with the recommendations of the Ministry of Health (both protect the community and protect yourself, breathe cleaner air). Dony mask quality has passed the stringent standards in the world, including FDA Certification, CE Certification (Conformité Européenne), ISO 9001: 2015 Certification, Certification for Free Export, Certification of chemical safety (TUV Reach), aseptic inspection certificate, global INTERTEK inspection certificate: 100 point water resistance (maximum level), over 99.9% antibacterial (from new – up to 60 times washed), UV resistant at 99.95 points (Excellent Protection level – corresponding to high-class suncream). Breathing resistance (mmH2O) at 1.8 (excellent level) – proves comfortably breathable when wearing a face mask. Dony has exported tens of millions of Dony Mask anti-drop cloth antibacterial masks to the US, France, Germany, UK, Middle East, Saudi Arabia, Nigeria, Singapore, Japan and other countries.
For order inquiries for wholesale face masks washable for sale in Vietnam, Dony can be contacted for quality assured supplies. Contact Dony today for wholesale face masks cloth for sale from Vietnam.
About us
The DONY Garment Company, a subsidiary of Dony International Corporation, specializes in producing by order clothes and uniforms for domestic and overseas companies. In the domestic market we're one of Vietnam's biggest companies in the field of making uniforms. In the international market, we are the main supplier for some fashion shops and make uniforms for many companies and groups all over the world. DONY's official office and workshop are located in Ho Chi Minh, the biggest market for the garment industry. Our products are distributed worldwide, especially to America, Europe, Australia and Asian countries like Japan.
For more information, please visit: https://garment.dony.vn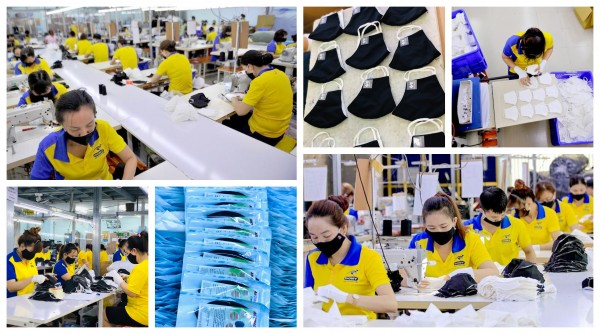 Media Contact
Company Name: DONY Garment Company
Contact Person: Mr Henry
Email: Send Email
Phone: +8462675818
Address:142/4 Bau cat 2, 12 Ward, Tan Binh District
City: Ho Chi Minh
Country: Vietnam
Website: garment.dony.vn