New filmmaker Zhengsheng Wang briefly discusses the production of his short films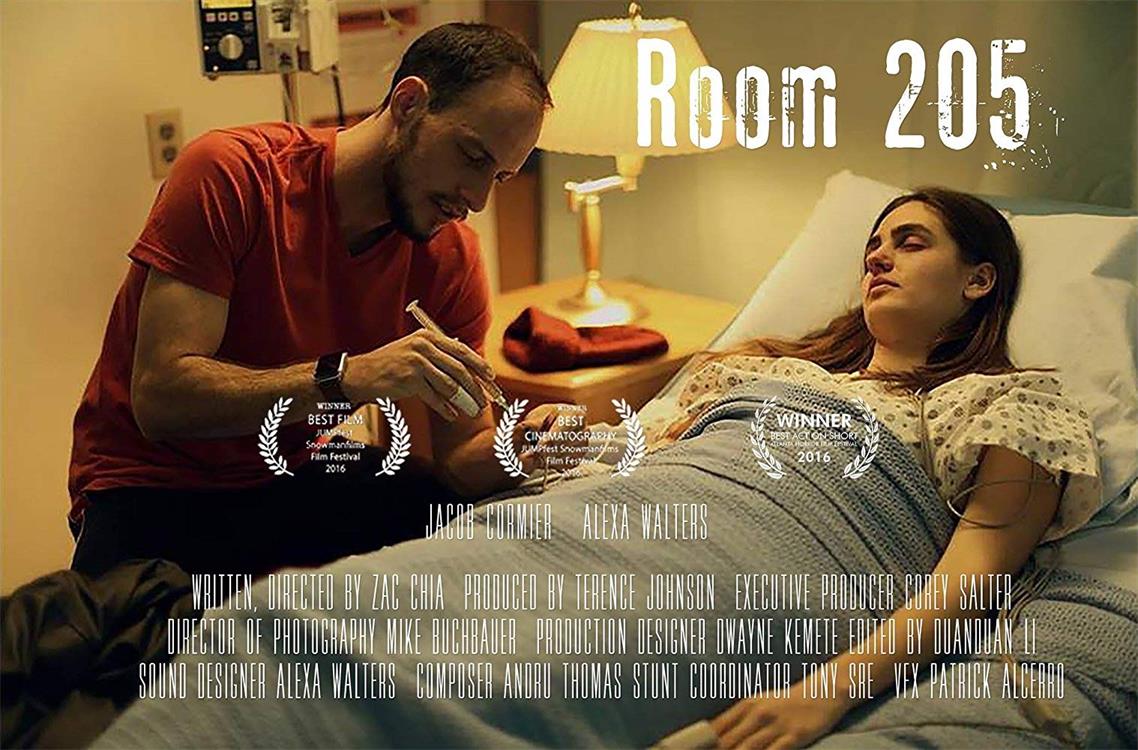 ZhengSheng Wang, born and raised in China, where its unique media culture is growing massively at this day and age, he grew up listening to diverse stories and watching films from various cultures, and found the power of media and contents is fascinating. he motivated to find stories that are worth telling and he has experience in project management and development, producing, capable of creating financial forecast, coverages, analysis, for scripts, stories, and film companies.
Since coming to the United states, he had worked on over 15 short films, including Room 205, which have been selected for different national festivals, as a young Chinese film producer who has lived in the United States for many years. He has been on over 30 sets as a crew member, worked for Hollywood production companies.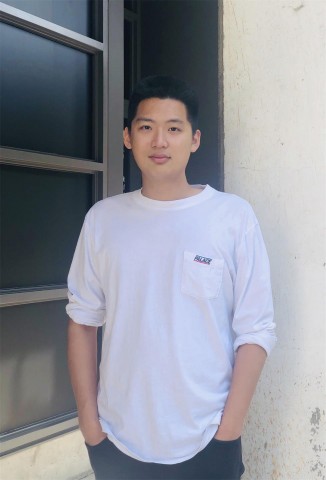 Q: How did you come to be involved in this production (who hired you, what work of yours had they seen and which ones, why did they seek you out specifically, etc.)?
A: Zac Chia, the director, he has been a good friend of mine since I came to the State. He taught me a lot of things for the past a few years and I am forvere grateful for that. At that time, he had an idea making a zombie short film, but not a typical zombie story. The story focus a lot on suspensions, plot twists, and parkour. The idea intrigued me instantly, and at that time I did a couple shorts like A Hero For A Day, The Last Silence, I am a person who is organized and get things done, one of the my things is that I always have a plan B for everything, whenever somethings happened, I will fix it then tell the director, don't want him to stress out. Also, he knows that I can not only help him on the production planning, but also the creative process, we both big fans of suspension films and zombie films, so he thinks we can make a good team.
Q: There is no summary of the plot on imdb. Please give a complete and detailed summary.
A: Racing against time, Phil must find a way to flag down help to save his comatose sister after he encounters a hoard of flesh eating zombies.
Start off, Phil stays in the a room with his comatose sister, while the facility is full of zombies. While he is trying to fix the electricity outrage and find a way out, Phil is bitten by a zombie, so he has to make a hard decision. Phil ended up sacrificing himself to secure a safe zone for his sister, whom was rescued eventually and Phil becomes a zombie.
Q: Where was the actual filming location and what was it about it (besides the stagesize) that convinced you that it was ideal? Where the lead actor or actress is so vital to the film, what kind of extra stress does it place on you and the director? How do you keep your director positive in these types of situations?
A: Most of the scenes are shot on a school campus. The budget is limited so we do have to work around it. There is a building on the campus are temporally unoccupied, waiting for renovation, so it gives us a lot of freedom for production. We use the classroom and conference room as the hospital room. And there is already some lab room that can be used. Also, we have access to the basement, so the one building basically covers all the scenes we need, and it's a smart financial decision.
The lead actor is extremely crucial to this film, because like I said earlier, the short is a zombie film with parkour, so the actor has to complete many difficult stunts by himself, luckily he finds a Lead who is a great actor and is experienced with parkour.
Still, safety is the biggest stress, because we don't want anyone gets hurt.
We just planned everything out front, and rehearsal many times before the shoot. Just enough preparation clears a lot of things, and will put the director in a comfortable situation.
Q: Please describe your experience working with the director of this film.
A: Inspiring and fulfilling. Zac is such an amazing filmmaker, from the early stage of the script to the actual production, he has a really strong vision to navigate the fil to where it is, and it is truly inspiring. And Zac is super easy to work with, and he understands any practical production issues. The film has many difficulties but we overcome all of them, and in the end, the partnership is fulfilling and satisfying to see what we have accomplished.
Q: Please discuss your interaction with the different cast members (by name).
A: There are two cast only, Jacob Cormier, the lead, and Alexa Walters, the sister. Alexa has been a friend of mine originally, and she does her role well in the film. Jacob, in my opinion, is talented. Our communication involves a lot of his ideas and thoughts on the stunts. His expertise in parkour helps us to make the film so much better. We had a lot of great conversation among Zac, Jacob, Tony (Stunt coordinator) and me.
Q: You mentioned the budget constraints on this film. I think this is where the creative/artistic side of a producer's personality comes out. Many people think of a producer as the business person in a film's production; while this can be true, there is also a great deal of creativity required in making everything work. How would you describe the role of a producer when it comes to being both practical and artistic?
A: The producer can be many things in a film's production, and I think it differs from person to person, projects to projects.
I think a film is an extremely collective work of art. Although everyone is playing its own specific role in the crew, we all need to undersand what others are doing and help each other. I think for a producer, being practical differencing him from a director, and it helps to make sure the film can be successfully made. It is necessary. But you cannot do it without having an artistic opinion because you are dealing with art. Location, crew, schedule, budget, and many other things indirectly determine the films, because those are what you can offer to directors, and hoping they make the best use it. The best chief cannot cook the best food without the best ingredients. As a producer, you have been aware of those things from an artistic perspective while being practical about everything.
Q: What do you think it is in your personality and state of mind that suits you so well for the role of producer? What was the most memorable part of your involvement in this production?
A: Finding the location was definitely memorable, since we found such a great place, with basically no costs, and we can shoot so many scenes, there, lobby, stairs, nurse room, lab room, turbo room, basement, electricity room.
Another memorable thing would be the crowdfunding campaign we did through Indiegogo:
https://www.indiegogo.com/projects/room-205#/
We raised $6040 for this film. The major thing I did for this is bringing VR technology to this campaign. So what I did is that I shot a VR video in the set. We use the set as background and have the director introduced the project, while zombies are running around in the background. It offers a level of immersive experience in the world.
Q: What was the most difficult part of your involvement in this production?
A: Honestly, probably the creation of the script, choreography, and editing. This is a short film, so it doesn't fit into The Walking Dead type of zombie style, which focus a lot on character development and humanity. But we don't want it to be another cheesy zombie piece, so finding the right balance was hard. The idea of bringing parkour from Director was genius, and we together come up with a script that is short, but just entertaining enough to get the audience excited. The choreography contains a lot of dangerous stunts, and we have to make it look cool, so there were lots of back and forward. As for editing, we found a lot of flaws when we edit the footage, after spending nights over editing room myself, we come up with some brilliant plan for making it work, better than expected.
Q: What was the most rewarding part of your involvement in this production?
A: See my campaign was successful and VR video was well received from all the supports are rewarding. And from getting all the supports, funds, to complete the project, then got selected and won film festival probably cliche but still rewarding. As a producer, hear the film win the best picture in a film festival is exceptional. But, the most rewarding thing to me is that I got a chance to make this fun piece with Zac and many other talented people, get got recognized. All the effort we put in from pre- production to post-production give me inspiration and satisfaction in the end.
Q: Do you feel that you learned anything from your involvement in the making of this film? If so, what and how has it effected your work in other productions?
A: I learned that to make a decent film, everyone has to be on the same page. It is a team effort, and the great relationship between the director and I helped us to dedicate ourselves into making this happen. I think the things I carry is that I always tend to maintain a good relationship with the director in future projects.
Q: Any interesting or funny stories about things that happened during the making of this film?
A: When we shoot the VR video, the director messed up so many times talking in front of the camera, which became the shots have more takes than any actual shots in the footage, like 27 takes.
Media Contact
Company Name: Yue Ling International Media
Contact Person: Sue Zhang
Email: Send Email
Phone: +86 13701214678
Country: China
Website: http://www.flylingmedia.com