UAPRN of Georgia holds 2019 Annual Unity Conference in Atlanta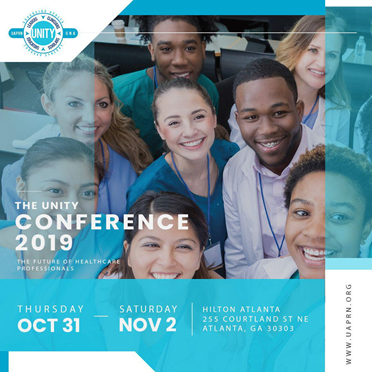 Georgia's top-level healthcare professionals set to convene for the 2019 Annual Unity Conference at the Hilton Atlanta hotel.
ATLANTA – September 24, 2019 – ​United Advanced Practice Registered Nurses of Georgia (UAPRN of GA), in partnership with the Georgia Nurses Association, will hold its 2019 Annual Unity Conference in Atlanta from Oct. 31 – Nov. 2 at the Hilton Atlanta hotel in Downtown Atlanta.
A three-day conference full of workshops, networking opportunities, and a special gala/awards banquet, the 2019 Annual Unity Conference is one of the best gatherings of top-level healthcare professionals in Georgia; with a wealth of invaluable medical information.
"The Unity Conference is a three-day experience that focuses on content that is moving from the pediatric setting all the way to a geriatric setting with something for everyone," said Dr. Michelle Nelson, president of UAPRN of GA.
"[It] is something that will deliver an experience that transcends everything regarding nursing in [Georigia]. It brings all nursing organizations together for one high-packed, mega-watt, event to make sure that we are showing you the movement that unity can deliver fo the patients and the communities that we are tasked to serve."
In adherence to The Unity Movement, a collaborative initiative launched by UAPRN of GA and the Georiga Nurse Association (GNA), the Unity Conference serves to support the achievement of nursing excellence through bringing together professional and advanced practice nurses, and nurse executives, educators, and scholars.
Cited as one of the "Top Healthcare Conferences for Nurses in 2019" by the ​Atlanta Journal-Constitution​, this year's event features Georiga healthcare leader Tim Porter O'Grady, serving as a keynote speaker.
Additionally, a host of other top-level healthcare professionals in Georgia will be present at the Unity Conference to share information on various topics that affect healthcare professionals and patients throughout the state, including suturing, wound care, EKG interpretation, mental health, and vaping.
For more information on the 2019 Annual Unity Conference or to purchase tickets please visit https://uaprn.enpnetwork.com/nurse-practitioner-events/126161-2019-annual-unity-conference#!info​.
About UANPR
UAPRN of GA represents all APRNs (Advanced Practice Registered Nurses) in its promotion of APRN issues relating to legislative and practice areas and to support the advancement of the APRN role.
As a non-profit organization, it is dedicated to ​improving access to healthcare for the citizens of Georgia through ​acting as a collective voice for all APRNs in Georgia, educating the public regarding advanced nursing practice, addressing legislative and political issues related to health care and barriers to advanced nursing practice in Georgia, being an advocate for and provide accessible, quality health care for all Georgians, and promoting collaboration and unification of all APRNs in Georgia.
Media Contact
Company Name: 404 Communications Firm
Contact Person: Martel Sharpe
Email: Send Email
Phone: 404-964-6169
City: Atlanta
State: GA
Country: United States
Website: https://uaprn.enpnetwork.com/nurse-practitioner-events/126161-2019-annual-unity-conference#!info