Florida Real Estate Broker Just Opened Her 3rd Real Estate Company Within 5 Years & Her 4th Company Within 6 Years
Tamairo Moutry, A CEO/Florida Real Estate Broker opened Her 4th Real Estate Brokerage in Illinois in December of 2019.
Fort Myers, FL – Tamairo Moutry, is a Milwaukee, Wisconsin native, and has been in the real estate business since 2004. She has frequented the Fort Myers area since 2008. Tamairo sold her Fort Myers Condo in 2014 and recently purchased a New Construction Waterfront Condominium in a city near Fort Myers. She has a background in education, teaching and mortgages.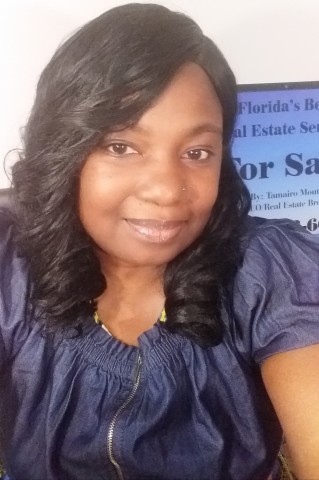 Tamairo has a Bachelor's degree in Education and 18 graduate credits towards her Master's degree in Educational Leadership. Tamairo has also obtained a Real Estate Instructor's License in the state of Wisconsin. She administers real estate education courses to current and potential real estate agents in Wisconsin. In April, 2019, Tamairo was the Key Note Speaker in Port St. Lucie, Florida for a Women's Real Estate Retreat. The Real Estate Coach, Ella Blaine from the popular Facebook group, Real Estate Ladies Rock, booked Tamairo to speak at her event after she saw Tamairo's other recent press releases on blacknews.com last year. Tamairo has continued with other speaking engagements, tv appearances, interviews and podcasts on many platforms.
Tamairo's main niches in Florida are Luxury Real Estate, New Construction, and Real Estate Development. Tamairo says that she also loves helping Snowbirds move into the area by purchasing 2nd homes, helps people to sell their homes in their home states, helps with their relocation to Florida, assists with the management of their vacation rentals, helps local residents, the 55 and older community, Military Veterans, First-Time Home Buyers, and people looking to downsize to buy or sell their homes. Tamairo enjoys walking the buyers through the process of building their dream homes from the ground up. Many people are already looking forward to any online home buying seminars, in-person community events, and home tours that Tamairo decides to plan and host in areas across Florida in the near future, as well as the other states she's licensed in. Watch her on the TV Show"Out & About" Southwest Florida, Sunday mornings, on Fox 4, 8am.-8:30am. starting at the end of January.
Tamairo previously owned a mortgage company in Milwaukee, Wisconsin, Milwaukee Mortgage Pros back in 2005. Her Real Estate Companies now include Florida's Best Real Estate Services, Georgia's Best Real Estate Services, Milwaukee's Best Real Estate Services and Illinois Best Real Estate Services. The business pages can be found on Facebook. Tamairo just started the Illinois company in December of 2019. The Florida company was started in 2017. Tamairo started the Wisconsin and Georgia companies in 2013 within 3 months of each other. Tamairo sold more than 100+ properties in one calendar year while she was employed with another real estate company in Milwaukee, Wisconsin. During that time, she obtained her Real Estate Broker license in 2012. She was the top Sales Agent before she left to start her own real estate brokerages in 2013.
Tamairo is now operating all of her businesses virtually, and was solo for many years. Recently, she started her recruiting efforts by building her teams in the 4 states that she's currently licensed in. She now has close to 20 Realtors working in Milwaukee, Wisconsin, which include Racine, and Central Wisconsin. Tamairo is enrolling students daily in her Wisconsin Real Estate Course. She's also building her teams in Georgia and Florida, and is ready to start her recruitment efforts in Illinois for 2020 and beyond. Her current and future goals consist of helping investors to purchase, improve and renovate affordable homes to revitalize the lower income communities to promote homeownership for all. Tamairo also assists real estate investors with purchasing homes, financing for renovations, new construction homes and commercial projects in all 4 states as well.
For more details about Tamairo & her companies, she's asking you to connect with her on her Facebook Public Figure Pages via any of the following accounts:
https://www.facebook.com/Tamairosrealestatetips
https://www.facebook.com/Tamairosellsrealestate
Media Contact
Company Name: Tamairo's Real Estate
Contact Person: Tamairo Moutry
Email: Send Email
Phone: 813-473-6611
City: Fort Myers
State: FL
Country: United States
Website: https://www.facebook.com/Tamairosrealestatetips