ZT Club talks to MVRS Executive Mendy Lupo: Looking forward to the value vision of MVRS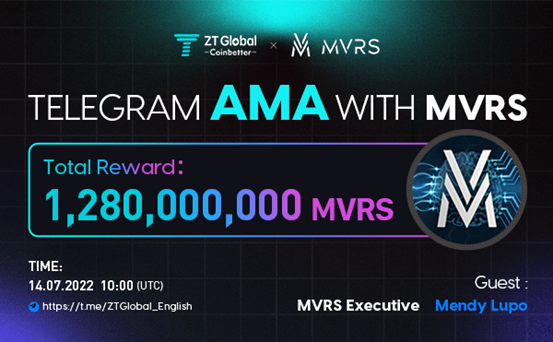 At 10:00 on July 14, Singapore time, MVRS Executive Mendy Lupo was a guest at ZT Club, sharing Meta MVRS with users and looking forward to the value prospect of MVRS.
At the beginning of the live broadcast, Mendy Lupo introduced the basic information of the Meta MVRS project to users. Meta MVRS aims to help investors find an easy way to invest in NFTs, Metaverse and cryptocurrencies. Our mission is to create a community that enjoys NFTs and metaverse technology and empowers positive social impact and the inherent value of metaverse execution.
MVRS is a multipurpose token that serves as a utility token for the MVRS Metaverse. Buy unique NFTs, exchange coins/tokens in the project's internal exchange center MVRS Swap, users can enjoy up to 45% APY income by staking MVRS, and the official website will automatically update monthly burning events, giveaways and weekly airdrops.
The team holds a monthly MVRS burn event to guarantee its deflation, in which 0.5% of the circulating supply is burned until 50% of the total supply is burned, and 20% of the total supply has been burned so far.
When asked how MVRS could empower NFTs in games in the future, Mendy Lupo said excitedly, "Our goal is to create a complete ecosystem for this project. NFTs will be implemented in our P2E games, The tokens will also be used as a utility, by playing games and winning matches, you can earn MVRS tokens, you can use your tokens to buy MVRS NFTs, etc."
Next, Mendy Lupo introduced the token economics of MVRS. "Lifetime zero tax" is the core competitiveness of the MVRS token. Unlike most projects, MVRS does not have any fancy "reflection" and "rewards". The amount a user chooses to buy is what the user will see in their wallet, and we believe users should be able to decide how to spend their money, with zero tax through us.
Security audits are very important for any project, especially DeFi protocols that handle user funds. As of now, META MVRS has passed the smart contract security audit and received the successful mark of the TECHAUDIT smart contract security audit.
In addition, Meta MVRS also has a legal opinion, Meta MVRS Token is also approved by BscScan, and all data of the project is approved and verified by the team.
MVRS has been listed on centralized exchanges such as MEXC, BitMart, Bitrue, AAX and the PancakeSwap decentralized exchange. Welcome to experience trading.
【Introduction to ZT Club】
ZT Club is an independent media comprehensive service platform and club operated by ZT Global.
ZT Club mainly integrates blockchain-related content such as project incubation, community integration, activity expansion, and industry education. Committed to promoting the vigorous development of the blockchain industry and building an industry ecosystem. Since its launch, it has invited a number of well-known industry leaders, rookie blockchain projects, capital institutions, popular communities and other guests, and successfully carried out multiple live broadcasts.
In the future, we will continue to bring new traffic, new resources, and new ways to play with the blockchain from time to time in the form of voice, video, and audio.
Media Contact
Company Name: ZT Club
Contact Person: Zoe
Email: Send Email
Country: Singapore
Website: ztb.im