Endoscopy Cameras Market is expected to Witness Massive Growth with a Significant CAGR of 5.63%, DelveInsight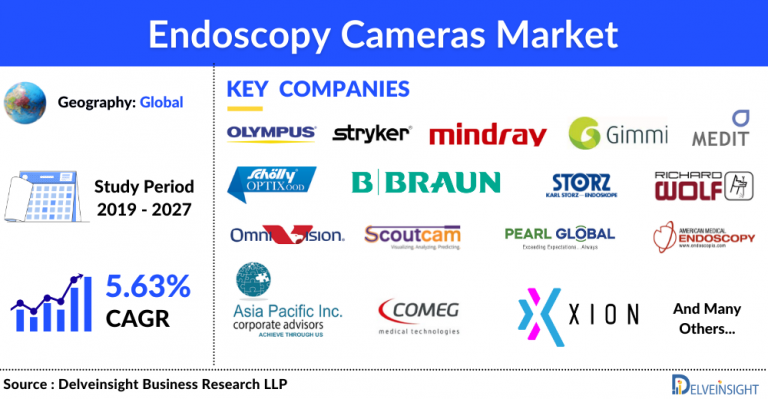 Global endoscopy cameras market is estimated to grow at a CAGR of 5.63% during the forecast period from 2022 to 2027. The increase in demand for endoscopy cameras is primarily attributed to the increasing prevalence of chronic disease which require the use of endoscopy cameras for diagnosis and visualization of some disorders, such as some gastrointestinal diseases like irritable bowel syndrome (IBD), gastroesophageal reflux disease (GERD), peptic ulcer disease, and Crohn's disease, increase in number of geriatric population who are more prone to chronic ailments, increasing awareness and demand of minimally invasive surgeries, and rise in technological advancements in endoscopy cameras like image magnification, high-definition optical systems and digital imaging are anticipated to bolster the market, thereby contributing to the growth of the endoscopy cameras market during the forecast period from 2022-2027.
Endoscopy Cameras Overview
An endoscope is a long, thin, flexible tube that has a light and camera at one end. It is used to visualize the internal structure of the body. Endoscopy camera is a visualization system which helps in viewing the internal body parts. Endoscopy camera provides HD image of the body which is transferred to the screen for viewing the image.
Download Sample Report- https://www.delveinsight.com/sample-request/endoscopy-cameras-market
Recent Developmental Activities in the Endoscopy Cameras Market Report
In March 2022, Endoluxe, provides portable, wireless, integrated mobile endoscopy solutions for endoscopic procedures, launched its high-definition, wireless endoscopic camera with TowerTech. It is used for different endoscopic procedures such as, urology, gynecology, ENT, general surgery and orthopedics.
In November 2021, OmniVision Technologies Inc., a developer of advanced digital imaging solutions, and Diaspective Vision GmbH, developer of high quality hyperspectral and multispectral camera systems for medical applications, announced the partnership in the development of a new type of endoscopic camera, the Malyna system, which is based on proprietary multispectral imaging technology. The system provides indocyanine green (ICG) based perfusion visualization. It also serves as a platform to adapt to further algorithms for quantified perfusion and tissue categorization without the need of color agent injection.
In July 2021, OSRAM, a global leader in optical solutions, announced the expansion of its NanEye portfolio with the NanEyeM camera module for single-use medical endoscopy. It offers high resolution pictures. The small dimensions of 1.0 mm x 1.0 mm x 2.7 mm allow the module to be used in the smallest of areas.
Key Takeaways from the Endoscopy Cameras Market Report Study
Market size analysis for current endoscopy cameras market size (2021), and market forecast for 5 years (2022-2027)
The effect of the COVID-19 pandemic on this market is significant. To capture and analyze suitable indicators, our experts are closely watching the endoscopy cameras market.
Top key product/services/technology developments, merger, acquisition, partnership, joint venture happened for last 3 years
Key companies dominating the global endoscopy cameras market.
Various opportunities available for the other competitor in the endoscopy cameras market space.
What are the top performing segments in 2021? How these segments will perform in 2027.
Which is the top-performing regions and countries in the current endoscopy cameras market scenario?
Which are the regions and countries where companies should have concentrated on opportunities for endoscopy cameras market growth in the coming future?
COVID19 Impact on the Endoscopy Cameras Market
The ongoing COVID-19 pandemic has slightly impacted the market for endoscopy cameras. At the onset of the disease, there was a significant shortage, attributed to the imposition of stringent lockdowns to curb the spread of the virus. Hospital admissions for patients suffering from cancers and other chronic disorders were not a priority in comparison to the patients suffering from coronavirus. The production of a majority of medical devices was shut down. Furthermore, surgeries were temporarily stopped during the pandemic. To reduce the COVID-19 transmission risk, endoscopy centers have postponed and canceled the semi-urgent and elective cases. However, with masses being vaccinated, the endoscopy cameras market has picked momentum.
Do you want to know more information related to report? Click here- https://www.delveinsight.com/report-store/endoscopy-cameras-market
Endoscopy Cameras Market Dynamics
The endoscopy cameras market is witnessing a growth in product demand owing to various reasons. The increasing use of endoscopy cameras in various applications is anticipated to bolster the market for endoscopy cameras during the forecasted period. For instance, endoscopy cameras had found their use in various areas of application attributed to increasing prevalence of chronic disorders like IBD, gastroesophageal reflux disease (GERD), peptic ulcer disease, and Crohn's disease due to environmental pollution, smoking, unhealthy lifestyles, poor nutrition and diet, and high intake of carcinogenic substances.
Endoscopy Cameras Market Segment Analysis
Endoscopy Cameras by Sensor Type (Complementary Metal Oxide Semiconductor [CMOS] and Charge-Coupled Device [CCD])
Endoscopy Cameras Market by Application Type (Gastroenterology, Urology, Gynecology, Cardiology, ENT Surgery, and Others)
Endoscopy Cameras Market by End User (Hospitals & Clinics, Ambulatory Surgical Centers, and Others)
Endoscopy Cameras Market by Geography (North America, Europe, Asia-Pacific, and Rest of the World)
Endoscopy Cameras Market Companies
Some of the key market players operating in the endoscopy cameras market include Olympus Corporation, Stryker, Shenzhen Mindray Bio-Medical Electronics Co., Ltd, SCHÖLLY FIBEROPTIC GMBH, Gimmi GmbH, B. Braun Melsungen AG, KARL STORZ, Xuzhou AKX Electronic Science And Technology Co., Ltd., MEDIT INC, Richard Wolf GmbH, OMNIVISION., Scoutcam., Electronics Services Centre (ESC Medicams)., HT Global Industries Limited, American Medical Endoscopy, FUJIFILM Asia Pacific Pte. Ltd., COMEG Medical Technologies, XION, WISAP Medical Technology GmbH, Maxer Endoscopy GmbH, among others.
Request Sample Report- https://www.delveinsight.com/sample-request/endoscopy-cameras-market
Table of Content
1. Endoscopy Cameras Market Report Introduction
2. Endoscopy Cameras Market Executive Summary
3. Regulatory Analysis
4. Endoscopy Cameras Market Key Factors Analysis
5. Endoscopy Cameras Market Porter's Five Forces Analysis
6. COVID-19 Impact Analysis on Endoscopy Cameras Market
7. Endoscopy Cameras Market Layout
8. Endoscopy Cameras MARKET Global Company Share Analysis – Key 3-5 Companies
9. Endoscopy Cameras Market Company and Product Profiles
10. KOL Views
11. Project Approach
12. about DelveInsight
13. Disclaimer & Contact Us
About Us
DelveInsight is a Business Consulting and Market research company, providing expert business solutions for the healthcare domain and offering quintessential advisory services in the areas of R&D, Strategy Formulation, Operations, Competitive Intelligence, Competitive Landscaping, and Mergers & Acquisitions.
Media Contact
Company Name: DelveInsight Business Research LLP
Contact Person: Yash Bhardwaj
Email: Send Email
Phone: 9193216187
Address:304 S. Jones Blvd #2432
City: Las Vegas
State: NV
Country: United States
Website: https://www.delveinsight.com/