One of the Largest Home Service Platforms with Over 1 Million Users in Thailand Relaunches Service and Expands Across Southeast Asia
Ayasan, a home service platform (housekeeping/maid, babysitting/nanny, senior care, driver, chef, and pet-sitter dispatch service) in Southeast Asia (Thailand, Indonesia, Laos, and Vietnam) with a total of 1 million users, announces the renewal of the new App / Website. Ayasan (Location: Bangkok, Thailand, CEO: Kotaro Ise). Previously, the web platform focused on matching services, but the company will now emphasize subscription services. Founder Kotaro Ise said, "As yet, there is no company like Grab, the transportation innovator, in the home service platform in Southeast Asia. I believe now is a great opportunity to become the top of the top in this field. Within the next three years, we hope to establish an absolute position in this field in Southeast Asia."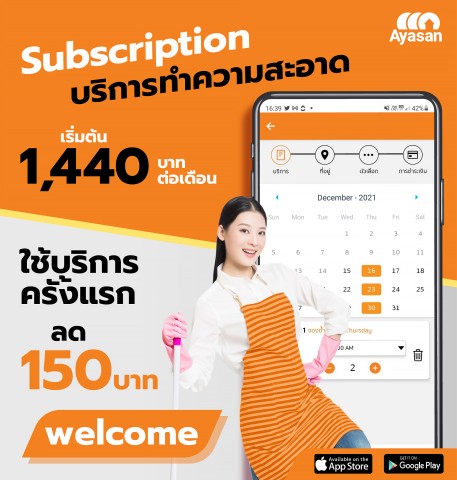 A super app that allows users to order housekeeping, babysitting, nursing care, pet care, medical care, and insurance services from a single app. From the app, users can easily request the service, which will be available throughout Southeast Asia under the same account. It will also be equipped with an AI-based human resource optimization function to find the best matching. The app places particular emphasis on safety, and includes insurance options in the event of theft or loss in the home, a chat function to instantly connect with operators, and a mutual evaluation system to ensure safety. The company also aims to improve its services through in-house training and certification tests.
In recent years, the market for housekeeping and home care services in Southeast Asia has been expanding. With an average annual growth rate of 7%, the current market size is 20 billion USD, and is expected to grow to 50 billionUSD by 2030.
The founder, Kotaro Ise, is a Japanese serial entrepreneur. He has sold one business in the past. He originally dreamed of becoming a hotel owner and studied hotel and casino management at the University of Nevada, Las Vegas, one of the most prestigious hotel / casino management schools in the world. After graduating from college, he worked for Walt Disney, an American media company, and Marriott International, a giant hotel company.
He says, "When I started my business, I didn't have the money to run a hotel. I came up with the idea of sending professionals to the home to provide a hotel-like service. In this case, since the service is provided, there is no need to spend a huge amount of money to set up a hotel. " He was also familiar with this kind of service, having had a maid take care of him when he was young because his mother was sick.
As for why he chose Thailand instead of Japan as the place to start his business, he says he was shocked when he visited Thailand for the first time when he was 24 years old and saw the social disparity not like Japan where he is from. Convinced that this business could create jobs for poor people and can be a solution for this social disparity, he chose Thailand as the place to start his business. When he arrived, he had no connections and only about 300,000 baht. The office was, of course, in his own room. It was common for job seekers to come to my room for job interviews.
At the time of the beginning of business in Thailand, he said, "It was really hard. As a foreigner, financing support from a bank was not an option, and it was rare to raise funds as a start-up, as it is now. Anyway, I worked hard and diligently to get the business off the ground. He had no idea that he would do so well in Thailand.I have seen people making two to three times the average monthly income in Thailand from the work we have provided, which makes me very happy and proud of this business."
He says "Blue-collar jobs such as maids, babysitters, and caregivers will not be replaced by AI or robots in the near future. When AI and robots replace jobs in these fields, I assure that, it will be the time when human jobs will disappear. Our vision is human empowerment. We will use technology, but the purpose of using technology is to support humans, not to replace them."
While there is a high need for such home services in Southeast Asia, there are still challenges in terms of convenience, safety, and human resource development, and this startup's mission is to solve these issues with the power of technology. When Southeast Asia becomes even more free in the movement of human resources, as is the case in the EU, it expects the value of international brands like Ayasan to increase considerably.
Ayasan plans to expand into Malaysia、 Singapore, Taiwan, and Japan within the next two years. In Thailand, the company also plans to further strengthen its nursing care services by partnering with hospitals and insurance companies.
【Ayasan Holdings Co.,Ltd.】
Office :Central World 29th Floor , 999/9 Rama 1 Road Pathumwan, Bangkok 10330, Thailand
Founder/CEO :Kotaro Ise
Founded  : 01/2013
Tel   : 02-714-2116
Email  : [email protected]
URL   : https://www.ayasan-service.com
Media Contact
Company Name: Ayasan Holdings Co.,Ltd.
Contact Person: Kotaro Ise
Email: Send Email
Phone: +66-2-714-2116
City: Bangkok
Country: Thailand
Website: https://www.ayasan-service.com