Seasoned Actor Jackie Shroff Stuns Audiences Once Again With His Astounding Stunt Work
The marvelous actor helped Saniya Anklesaria through an incredibly difficult scene during the shoot of the movie "Life Is Good," slated to release on Dec 9th, 2022.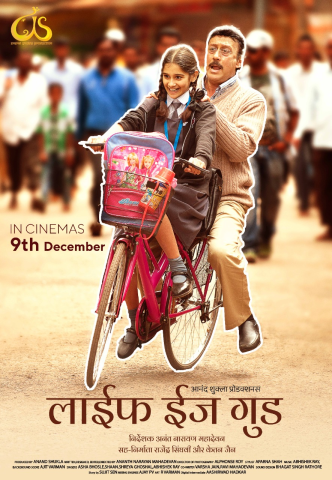 Veteran actor Jackie Shroff, known for his kindness and courage, is back in the news again as he helped child actor Saniya Anklesaria go through one of the most awe-inspiring moments in the upcoming movie "Life Is Good." In his brand-new, endearing human drama, Life is Good, written by Sujit Sen, who also wrote the magnificent movies Saaransh and Arth, he made sure to add perplexing, gasp-worthy passages featuring Jackie Shroff as Rameshwar.
During one scene, Saniya Anklesaria, who plays Mishti's role in the heartwarming drama, was asked to ride a bicycle with Shroff in the back seat. While everyone was, at first, worried about her safety, including the talented actor, Shroff did something that helped ease up the anxiety of the thirteen-year-old Saniya Anklesaria.
The director, Anant Mahadevan, and the producer, Anand Shukla, teamed up to create a brilliant plan and showed Saniya that there was nothing to worry about as the producer rode around with Jackie on the bicycle himself. Watching two grown-up men do the stunt, the nerves of Saniya settled as she finally mustered up enough courage to film the staggering stunt.
According to one eye witness, "Mighty Jackie dada balanced himself so beautifully on the child's bicycle that Saniya had absolutely no problem giving him a ride around a crowded market! They actually looked like they were having a great deal of fun. That's Jackie Shroff for you, courageous, kind, and talented."
As evident, Life is good is a new, upcoming movie by National Award-winning director Ananth Mahadevan, and produced by Anand Shukla who owns Anand Shukla Production, a production house based in Mumbai. Abhishek Ray will be creating the music for the film, and the production company has also welcomed well-known singers like Asha Bhosle, Shreya Ghoshal, Shan, and Abhishek Ray into the mix. While it is mostly intended for the Hindi-speaking public, the movie will also be made available with English subtitles for an international audience.
Learn more at: https://www.facebook.com/lifeisgoodthefilm
Media Contact
Company Name: Anand Shukla production
Contact Person: Anand Shukla
Email: Send Email
Country: India
Website: www.facebook.com/lifeisgoodthefilm