"Nine Lives Endless Dreams" Tells the Remarkable True Story of a Woman's Fight For Survival and Happiness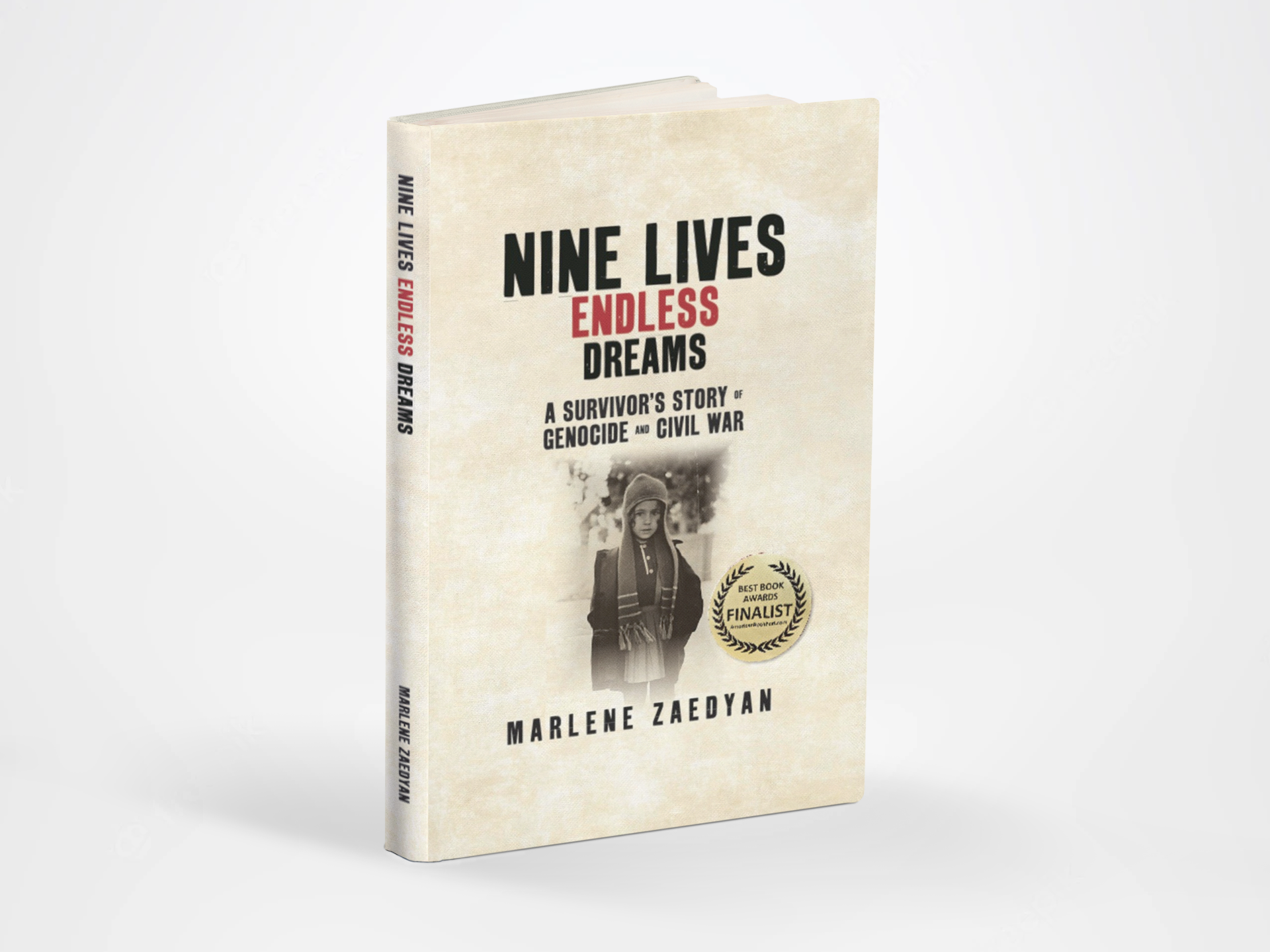 Marlene Zaedyan's, NINE LIVES ENDLESS DREAMS recounts the powerful true story of her journey from a victim of civil war to a confident woman in command of her own destiny.
Marlene Zaedyan was born in Lebanon and is a descendant of the Armenian people who fled Turkey during the Armenian Genocide. Zaedyan lived through the Lebanese Civil War and suffered through many hardships over the course of her formative years. In her autobiography, NINE LIVES ENDLESS DREAMS: A Survivor's Story of Genocide and Civil War, Zaedyan narrates her fight for survival after being displaced by war and settling in Brazil to raise her own family. From a powerless child of war to a confident woman in command of her own destiny, the book tells the story of how Zaedyan's choice to fight for her life allowed her to find lasting joy.
"The experience that I went through, the civil war, family and children sickness, migration and all, made me a strong, loving, compassionate woman," says author Marlene Zaedyan. After overcoming tremendous adversity, Zaedyan has become an acclaimed author, winning an international book award for her work. With hopes to educate readers on the atrocities of war and genocide, Zaedyan's goal is to inspire readers to overcome adversity through grit and resilience. "Life is really good in spite of its challenges…the key is knowing how to react to adversity."
NINE LIVES ENDLESS DREAMS is an interwoven journey through history, culture, spirituality, philosophies, and love. Zaedyan is a role model who perseveres through adversity and uses it to her advantage. The book paints a detailed portrait of a turbulent period in Middle Eastern history, including the Armenian Genocide. Whether battling civil wars, family issues, or her sons' illnesses, Zaedyan demonstrates how people can suffer while still living with hope and joy.
Although Zaedyan's life is unique, the themes highlighted in the experiences that shaped her are universal. Zaedyan's journey of growth and discovery is enamoring and it's hard not to walk away from the book without fixating on her resiliency and will to love, which were arguably within her from the start. In addition, Zaedyan's commentaries on what makes life worthwhile and where the joy in life truly comes from, are worthy of attention even without the historical narrative. A haunting reminder of the first modern genocide, civil war in Lebanon, and the struggles of refugees throughout history and today, this book is destined to become a classic of survivor literature.
NINE LIVES ENDLESS DREAMS has been endorsed by experts, authors, and reviewers around the world. Reviewer Ann M. Porto writes, "This autobiography is inspirational. The author witnessed and shared extremely difficult experiences during her early years in Lebanon and after she relocated to fight to survive as a young woman…the ways she found to rise above, give hope to the reader and thrive." In addition, reviewer Clint Cosgrove writes, "I'm always intrigued by the personal stories of those who have overcome extraordinary hardships, this book delves in to the hardships of genocide and civil conflict that tends to plague every single civilization the world has ever seen. Very impactful and insightful!"
NINE LIVES ENDLESS DREAMS is an exceptional read; it will bring you to tears and offer you a striking insightfulness that will stay with you for days. The book is available for sale on Amazon. Readers who are looking for an inspiring autobiography filled with courage, compassion and wisdom are encouraged to purchase their copy today: https://www.amazon.ca/Lives-Endless-Dreams-Marlene-Zaedyan/dp/1649908172
About the Author
Marlene Zaedyan is the author of Nine Lives: Endless Dreams. Born in Lebanon's Beirut, books were her companion and protege as she grew up amid the Civil War in 1975. Her first foray into writing were the short stories she wrote that were never published and were either destroyed or abandoned while seeking refuge. She eventually settled in Sao Paulo, Brazil where she graduated in Holistic Therapies, Acupuncture, and Traditional Chinese Medicine.
She is a beach lover, a multitasker, a multilingual woman, and the mother of three young adult children, a girl and two boys with special needs. She is also a travel enthusiast and adventurer who enjoys life to the fullest. When she is not reading or writing, she is singing and dancing around the island of her cooking countertop kitchen.
Connect with Marlene Zaedyan on Social Media
https://www.instagram.com/nine.livesendlessdreams/
https://www.facebook.com/ninelivesendlessdreams/
Media Contact
Company Name: Author News Network
Contact Person: Media Relations
Email: Send Email
Country: United States
Website: authornewsnetwork.com