J Flowers Health Institute provides expert and correct diagnoses for mental health and physical conditions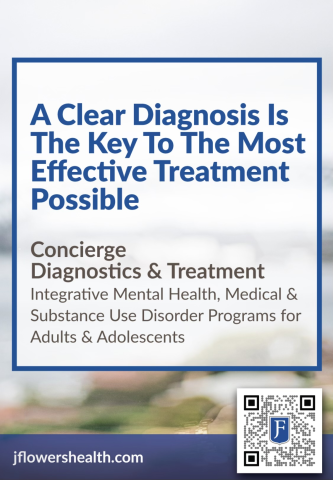 J Flowers Health Institute is a Concierge Diagnostics & Treatment institute famed for its accurate diagnoses of various mental health and physical conditions. The institute's team of highly trained and experienced healthcare professionals is dedicated to providing the best possible care for its patients, and that starts with an accurate diagnosis.
Many people throughout the world are misdiagnosed, psychologically, psychiatrically, medically, and other unknown or mysterious conditions. It is estimated that up to 20% of primary care visits in developed countries are related to misdiagnosis. Additionally, studies suggest that misdiagnosis is also responsible for 10-15% of hospital deaths in the United States.
The most common mistakes made in medical diagnoses are failing to order the correct tests, making an incorrect interpretation of the test results, failing to refer the patient to an appropriate specialist, and failing to consider all of the medical history of the patient. J Flowers Health Institute believes that uncovering a true diagnosis through constant interdisciplinary communication allows for the most effective treatment possible.
"At the J Flowers Health Institute, we understand that receiving a correct diagnosis is the first step towards finding a precise treatment plan", said Dr Flowers, the founder of the institute. "That's why we take the time to thoroughly evaluate each patient, using a combination of cutting-edge diagnostic tools to get a complete picture of their health. We believe providing expert and correct diagnoses leads to the roadmap for the best treatment possible".
Whether a client is struggling with a psychological disorder such as crippling anxiety or severe depression, or dealing with a physical condition like Lyme Disease or chronic fatigue, J Flowers Health Institute is poised and ready to help in most effective way possible.
One of the areas where the institute specialize is in the diagnosis and treatment of chronic pain conditions like fibromyalgia. The institute's team has extensive experience in this area, and use a range of techniques and therapies to help its clients find relief from their pain. They also offer a range of services for those struggling with addiction, including multidisciplinary modalities and counseling to help them overcome their addiction and get back on track.
The Institute offers the following suite of elite services:
· Comprehensive Diagnostic Evaluation Program
· Concierge Detox Programs
· Concierge Wellness and Restoration Programs
· Programs for Adolescents and Young Adults
· Concierge Continuing Care
· Concierge Alumni Services
· Brain Mapping Services
"At the J Flowers Health Institute, we believe that everyone deserves the chance to live a healthy and fulfilling life. That's why we're committed to providing expert and accurate diagnoses for all of our patients so that they can get the care they need to lead the lives they want. If you or a loved one is in need of expert care and diagnosis, we encourage you to contact us today to learn more about the services we offer."
Dr Flowers has been in practice for almost 30 years and founded the J Flowers Health Institute on January 1, 2019 and this January will be our fourth anniversary. The Institute was founded because there is an incredibly large number of complex individuals who have been misdiagnosed, or are seeking a proper diagnosis.
J Flowers Health Institute's services have elicited rave reviews from its clients. "Being here has opened my eyes to what I am capable of. It has helped me find a sense of myself I didn't know was there. This place gave me hope – something I hadn't had in a long time."- M. W. Another satisfied client, Chris, said: "Next to my wedding day, this was the best week of my life, because I finally understand what has been causing the amount of stress and anger in my life."
For more information about J Flowers Health Institute, or to schedule an appointment with one of its healthcare professionals, please visit the institute's website at www.Jflowershealth.com
Media Contact
Company Name: J Flowers Health Institute
Contact Person: James Flowers, PhD, CSAT, LPC-S
Email: Send Email
Country: United States
Website: https://jflowershealth.com/