Renowned Scientist turned Entrepreneur, Author and Philanthropist Dame Dr. Kara Scott-Dentley to Speak at I Am Greater Summit Retreat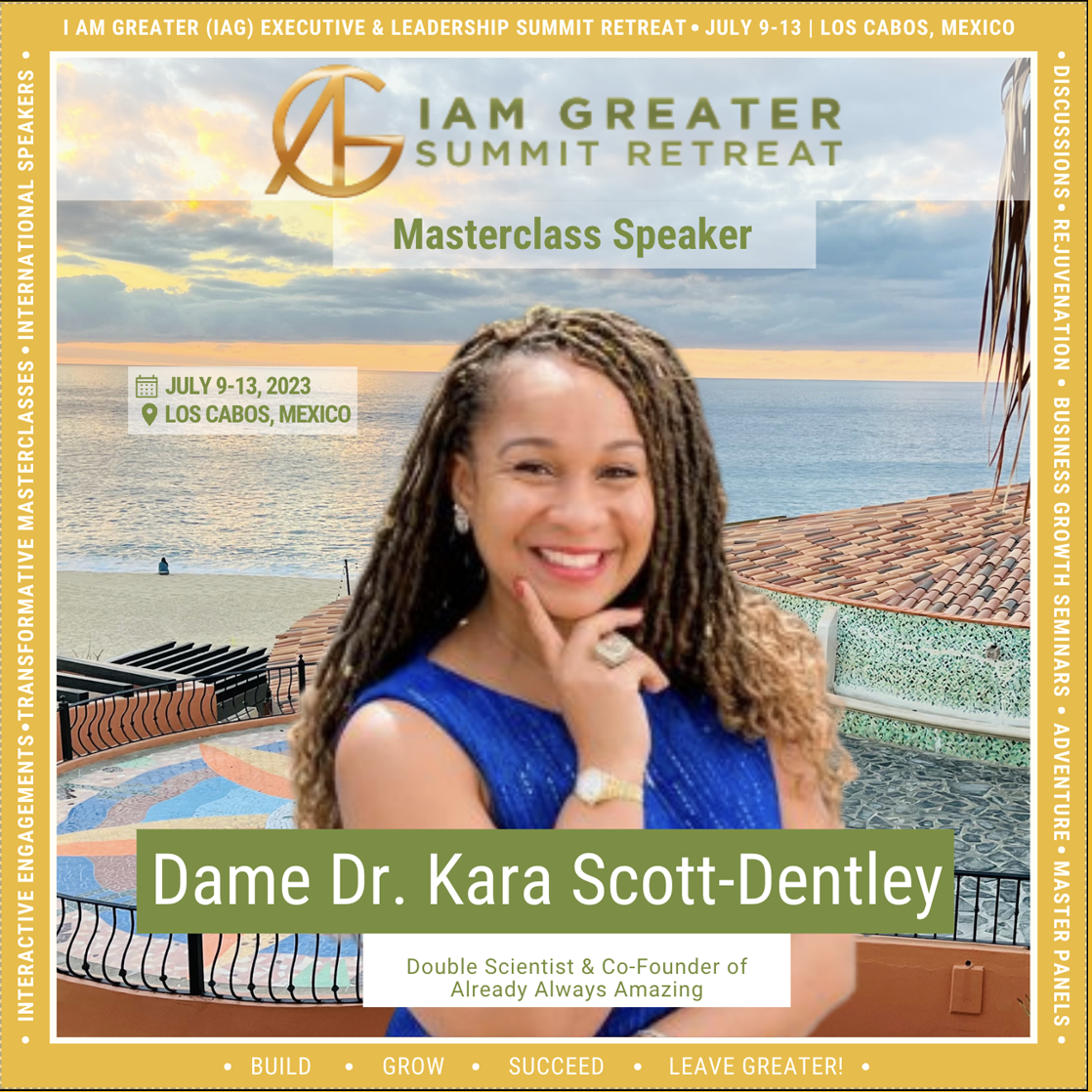 Renowned Scientist turned Entrepreneur, Author and Philanthropist Dame Dr. Kara Scott-Dentley to Speak at I Am Greater Summit Retreat
Sunrise, FL – Dame Dr. Kara Scott Dentley, a scientist turned entrepreneur and success specialist, has been announced as a master speaker for the upcoming I Am Greater Summit Retreat organized by Write Choice Consulting Firm. The retreat will take place from July 9, 2023, to July 13, 2023, at Hacienda Del Mar Los Cabos Resort, and will focus on "Come Great, Leave Greater!"
Prior to retirement at the age of 35 years, she served in the Federal Government as a Physicist and Geospatial analyst for 9+ years. Her research is well respected and is published in the United States and internationally. Since her retirement, she has been privileged to travel around the world to give talks on the Science to Success using methods and first principle strategies learned during her academic and work career.
Dame Dr. Kara Scott-Dentley was knighted in 2022 by The Sovereign and Royal House of Cappadocia, and The Royal Order of Constantine the Great and Saint Helen. Dame Dr. Dentley is the co-founder of Already Always Amazing, where they help support children, veterans, and seniors by providing necessary resources and support. Through their non-profit organization, they feed hundreds of seniors and children in the city of Chicago, help youth write their own books, and provide funding for specialized programs. She is also the co-author of several books, including "Breaking The Code of Silence Now" and is featured in "African American Women Leaders…From the Underground Railroad to the White House" listed amongst powerful women such as Dr. Florence Alexander, Michelle Obama, Mellody Hobson, Oprah Winfrey, Scientist Katherine Johnson and many other notables. Dame Dr. Dentley's latest book, "Governing Your Greatness With Science" will be released fall 2023. She is also casted in an upcoming documentary "Beyond Physical Matter". With her extensive knowledge and experience, Dame Dr. Dentley has helped countless individuals around the world to overcome their challenges and achieve their goals.
As a master speaker at the retreat, Dame Dr. Dentley will be delivering a powerful presentation on The Demystification between Lifestyle, Water and Science. Attendees can expect to learn valuable insights and practical strategies that they can use to improve their lives, gain greater clarity, and purpose, and achieve their goals with greater ease.
The I Am Greater Summit Retreat is a unique and rejuvenating experience that offers attendees the opportunity to connect with nature, find balance in their lives, and learn from some of the most highly respected experts in the industry. In addition to the panel discussion, attendees will also have the opportunity to participate in discovering the underwater world in Los Cabos, rock climbing, extreme sports activities, golfing, hiking to the waterfalls at Santiago, or just taking a load off by having a spa day, and engage with the global elite leaders such as: Jeffrey Hayzlett, Telena Paris, Jeremy Tillman, Harrison Klein, Vanessa McBee, Nikki Oxley, Sir Dr. James Dentley III, Debra Poneman, Kiamesha Wilson, and Felisha Monet to name a few.
"We are thrilled to have Dame Dr. Kara Scott-Dentley as a master speaker for the I Am Greater Summit Retreat," said Telena Paris, CEO at Write Choice Consulting Firm. "Her experience, insights, and strategies have helped many people around the world to overcome their challenges and achieve greater success and fulfillment in all aspects of their lives. We are confident that her master class will be an unforgettable experience for all attendees."
For more information about the I Am Greater Summit Retreat and to register for the event, please visit www.iagreater.com
About Write Choice Consulting Firm:
Write Choice Consulting Firm is a certified SBE & CBE minority woman-owned international organizational & grant/fund development consulting firm and professional development learning institute. We are committed to providing a range of high-quality advisory and organizational support services to non/for-profit, public and private organizations, with a focus on small and medium-sized businesses around the world.
For more information about our organization, please visit www.writechoiceconsult.org.
Media Contact
Company Name: Write Choice Consulting Firm
Contact Person: Charity Christensen
Email: Send Email
Phone: 8778447328
Address:1560 Sawgrass Corporate Parkway 4th Floor
City: Sunrise
State: Florida
Country: United States
Website: www.iagreater.com/