A world-class lineup of international jazz musicians expands to a two-day festival this year.
The Scottsdale Jazz Festival announces a bigger tribute to International Jazz Day for 2023, with the expansion of the festival to a two-day event. Tickets are now on sale for the festival which will take place April 29-30, 2023. https://scottsdalejazzfest.org/.
The Scottsdale Jazz Festival is the host to a world-class lineup ranging from the internationally famous London-based "Incognito," to "Jazz, Funk, Soul" with Jeff Lorber. Carlos Rivas y Mexsal and Yuko Mabuchi will perform on Sunday alongside many more renowned artists. The full lineup of artists and performance times can be found on the website.
"Not only have I been a professional jazz musician for 30 years, but I have also been a music educator using jazz as a means to reduce crime in my community, as well as to promote staying in school for young people at risk," said William "Doc" Jones, Founder and Executive Director of International Jazz Day AZ Foundation. "The power of jazz music is palpable and it's why enthusiasts travel all over the world to hear this incredible artist share their craft."
The festival will be hosted at the new, $35 million-dollar remodeled Scottsdale Civic Center.
The venue has three stages with tantalizing cuisine and beverages, which will be available through a host of top-shelf world and regional food vendors from Italy, London, New Orleans, Japan, and more.
Tickets start at $50 for a single-day general admission pass. Tickets for Premium seating are $75 for a single-day pass that includes reserved seating behind the Premium Plus section. Premium Plus seating is $175 for a single-day pass, including one drink voucher, reserved premium seating by the stage, full access pass, and private restrooms. VIP tickets are $250 for a single-day pass and include seating behind VIP Experience tables on top of everything included from the "Premium Plus" seating. The VIP Experience seating for the high rollers is $375 for a single-day pass that provides premium beverages, reserved seating, drinks, food, full access pass, executive restrooms, and round tables of 8.
"As the Scottsdale Jazz Festival grows a dedicated jazz fan following, we have had more requests from out-of-town guests interested in attending the event," continued Doc Jones. "So, we have worked with our partners to develop vacation packages for the 2023 festival.
Jazz Scottsdale has 4- & 7-day packages available from Los Angeles, New York, Dallas, Denver, Houston, Seattle, Chicago, Minneapolis, Calgary, Edmonton, Vancouver, and Toronto for jazz enthusiasts searching for an immersive visit to the Phoenix area. Book your vacation package today at https://jazzscottsdale.com.
Visit scottsdalejazzfest.org for more information about the event artists' lineup and how to purchase tickets. Funds from the festival go to support NextStudent Academy and Molina School of Jazz After School programs. https://nextstudentacademyofthearts.com/
About Scottsdale Jazz Festival
Based in Scottsdale, Arizona, the Scottsdale Jazz Festival is a tribute to the 10th Annual International Jazz Day, and this year, the event is supported by Mayors of three surrounding cities and through a grant from "Scottsdale Tourism." https://youtu.be/JWpwAuh0UoQ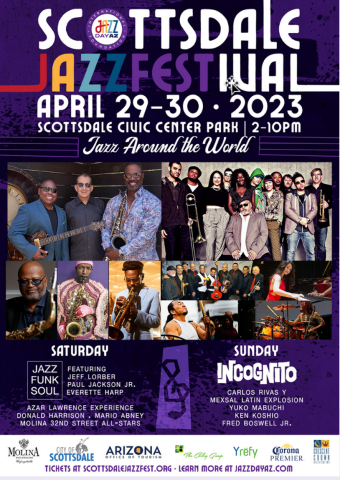 Media Contact
Company Name: The Scottsdale Jazz Festival LLC
Contact Person: William Doc Jones
Email: Send Email
Country: United States
Website: https://scottsdalejazzfest.org/