Ridgeline Construction Earns Exclusive Industry Memberships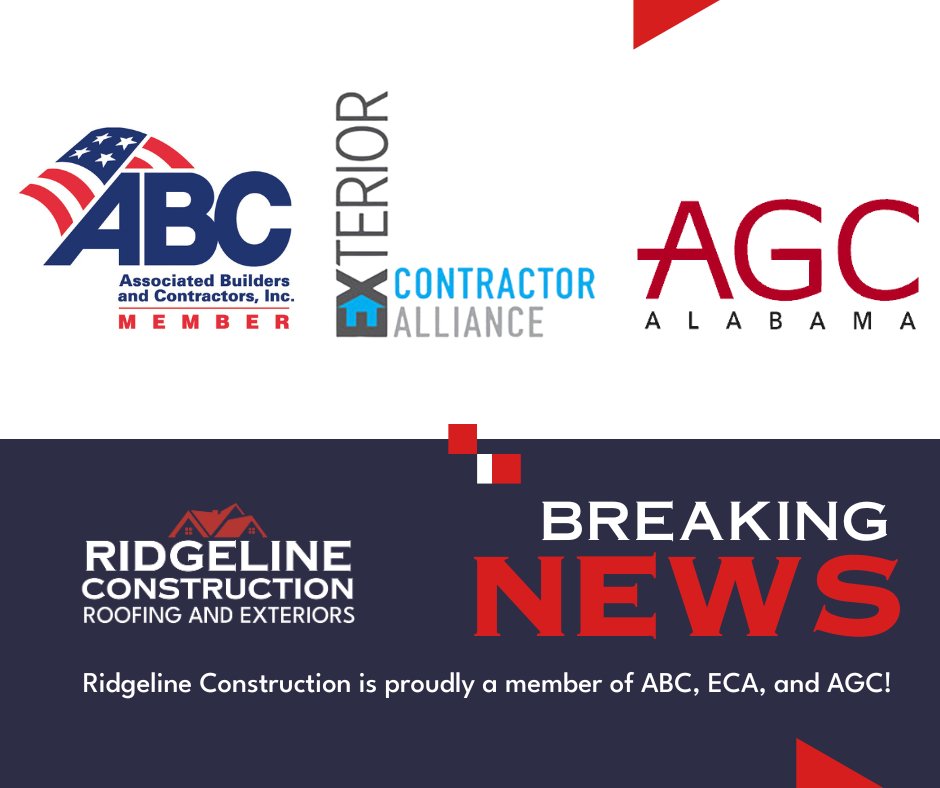 Each organization has unique requirements for its members, but their overarching theme is this: members of these organizations must be leaders in their industry, provide excellent service and products, be financially sound, be compliant with all state and federal licensing requirements, carry proper insurance, and have a good record with the Better Business Bureau.
Ridgeline Construction is now a proud member of the following esteemed organizations:
Associated Builders and Contractors, Inc (ABC)
Exterior Contractor Alliance (ECA)
Alabama General Contractors Association (AGC)
Ridgeline has maintained all of these requirements and is happy to become a part of these exclusive groups. Now we will dive more into what each group is all about.
Associated Builders and Contractors, Inc (ABC)
According to the ABC website, "the Associated Builders and Contractors is a national construction industry trade association representing more than 22,000 members. Founded on the merit shop philosophy, ABC and its 68 Chapters help members develop people, win work and deliver that work safely, ethically, and profitably for the betterment of the communities in which ABC and its members work. ABC's membership represents all specialties within the U.S. construction industry and is comprised primarily of firms that perform work in the industrial and commercial sectors."
Exterior Contractor Alliance (ECA)
The ECA described themselves as follows:
"Exterior Contractor Alliance is an invitation-only cooperative for high quality, full-service roofing, and exterior finish contractors who service the single-family, multi-family, remodel, storm and insurance restoration, and commercial market segments.
ECA Members are successful entrepreneurs who believe they can get better, who enjoy the process of continuous improvement, and who strive to improve their businesses, and therefore the industry, every single day.
Our desire is to add value to every link of the industry chain and increase efficiencies through scale and cooperation. This group is comprised of business-minded entrepreneurs who run their business above all industry standards."
Alabama General Contractors Association (AGC)
A few of the AGC's core values are commitment, resources, reputation, and protection. These values align with Ridgeline's values perfectly. The AGC has been around for over 100 years, and we are honored to be a part of such a significant group.
So why does this matter to a customer?
We recommend that consumers do their research on companies before they make a decision, especially when the project is your home. Because we are members of these groups, you can rest assured that Ridgeline is not only following all legal licensing and insurance obligations but also that we are financially sound and have a good reputation as well as a good standing with the Better Business Bureau.
Being a member of these organizations also shows our dedication to our customers, showing that we are always continuing our mission of lifelong learning by finding new ways to move forward in our industry.
Media Contact
Company Name: Ridgeline Construction
Contact Person: Carina Farr
Email: Send Email
Address:600 Boulevard S SW Suite 104
City: Huntsville
State: AL
Country: United States
Website: https://ridgelineconstructionhsv.com/