Director Salesh Pillai and Composer Shaheed Rahman Unveil Their Captivating Music Video "Incognito"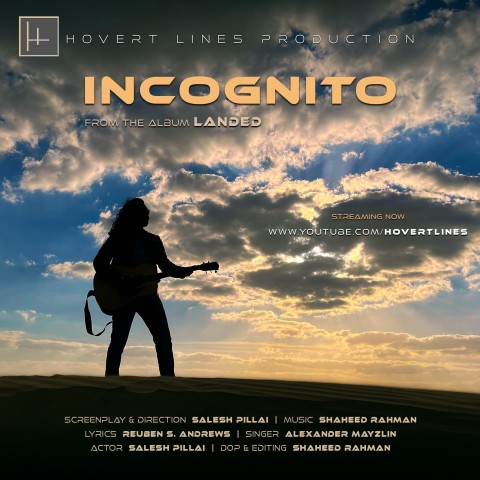 Salesh, the creative force behind "Incognito," has already garnered numerous accolades for his previous music videos and his celebrated short film, "Presenting the Past," which received the prestigious StarPlus Asianet TV award. His ability to weave compelling narratives with visually stunning aesthetics has solidified his position as a prominent figure in the industry.
Shaheed Rahman, a versatile composer, and producer, has carved a niche for himself by delivering exceptional musical compositions in English, Tamil, Malayalam, and Nepali languages. His remarkable ability to connect with diverse audiences through his soul-stirring melodies has earned him widespread appreciation and adulation.
Speaking about the collaboration, Salesh Pillai expressed his excitement: "Teaming up with Shaheed Rahman for 'Incognito' has been a truly enriching experience. His musical brilliance has elevated the storytelling aspect of the music video to new heights, making it an unforgettable audiovisual extravaganza. I am immensely proud of what we have created together."
Shaheed Rahman added, "Working with Reuben Andrews, the talented lyricist behind 'Incognito,' contributes his poetic prowess, crafting heartfelt and thought-provoking lyrics that resonate with audiences. 'Incognito' allowed us to bring our combined creativity to the forefront, resulting in a music video that resonates with audiences worldwide, and the key portion of the song equipped singer Alexander Mayzlin's enchanting vocals that bring an additional layer of emotion and depth to the music video. Mayzlin's ability to convey the essence of the lyrics through his powerful and soulful voice adds an extra dimension to the storytelling."
"Incognito" showcases Salesh Pillai's exceptional talents as both an actor and director, further solidifying his position as a dynamic force in the industry. Alongside him, Shaheed Rahman's musical journey continues to captivate audiences with its diverse and evocative compositions.
The collaboration between Salesh Pillai, Shaheed Rahman, Alexander Mayzlin, and Reuben Andrews in "Incognito" represents a meeting of creative minds, blending their respective talents to create a truly immersive and captivating audiovisual experience. The synergy among these artists elevates the music video to new heights, offering audiences a journey of self-discovery, identity, and introspection.
For media inquiries and/or interviews, please contact Salesh Pillai on Instagram: https://www.instagram.com/salesh.pillai
Watch the music video "Incognito" on their YouTube Channel, Hovert Lines: https://www.youtube.com/watch?v=q2IfLC9dcN0
Media Contact
Company Name: Hovert Lines
Contact Person: Media Relations
Email: Send Email
Country: United Arab Emirates
Website: www.youtube.com/c/HovertLines