Graves Ophthalmopathy Market is Expected to Expand at a Healthy Growth Rate During the Study Period (2019- 2032)|Key Companies – Immunovant Sciences, Novartis, Viridian Therapeutics, Sling Therapeutic
DelveInsight's "Graves' Ophthalmopathy – Market Insights, Epidemiology and Market Forecast – 2032" report delivers an in-depth understanding of the Graves' Ophthalmopathy, historical and forecasted epidemiology as well as the Graves' Ophthalmopathy market trends in the United States, EU4 (Germany, Spain, Italy, and France) and the United Kingdom, and Japan..
DelveInsight's "Graves' Ophthalmopathy – Market Insights, Epidemiology and Market Forecast – 2032" report delivers an in-depth understanding of the Graves Ophthalmopathy, epidemiology insights, Graves Ophthalmopathy market trends, therapies and key companies working in the Graves Ophthalmopathy Market in the 7MM.
Graves Ophthalmopathy Overview
Graves' ophthalmopathy is an autoimmune inflammatory disorder associated with thyroid disease, which affects ocular and orbital tissues. It is also known as Graves' orbitopathy, Graves' eye disease, thyroid eye disease (TED), and thyroid-associated ophthalmopathy. It is the main extrathyroidal manifestation of Graves' disease and is often disfiguring, significantly impairing the QoL of affected individuals and causing great indirect and direct costs to health systems. Being an immune-mediated inflammatory disorder, it produces expansion of the extraocular muscles and fat in orbit. Edema, accumulation of glycosaminoglycans and collagen, and adipogenesis cause most patients to enlarge both extraocular muscle and orbital adipose tissue, with a predominance of either in some patients.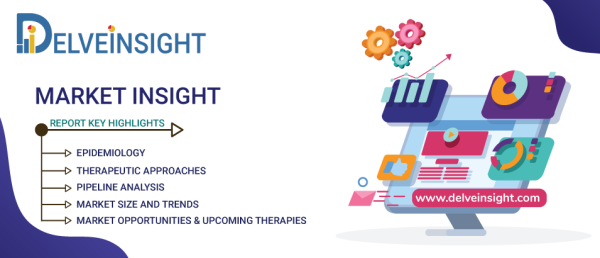 Graves Ophthalmopathy Epidemiology Insights
The total prevalent cases of Graves Ophthalmopathy in the United States were around 1,012,000 cases in 2022.

The US contributed to the largest prevalent population of Graves' Ophthalmopathy, acquiring ~42% of the 7MM in 2022. Whereas Germany accounted for around 13% and Japan accounted for around 8% of the total population share, respectively, in 2022.

Among EU4 countries, Germany accounted for the largest number of Graves' Ophthalmopathy cases, followed by France, whereas Spain accounted for the lowest number of cases in 2022.

According to DelveInsight estimates, there were around 16,300 cases of acute Graves' Ophthalmopathy and 41,900 cases of chronic Graves' Ophthalmopathy in Japan in 2022. These cases are projected to increase during the forecasted period.

In the 7MM, approximately 20% of the patient share is attributed to males, whereas only 80% of females suffer from Graves' Ophthalmopathy.

The total market size of Graves' Ophthalmopathy in the 7MM was approximately USD 1,993 million in 2022 and is projected to increase during the forecast period (2022–2032).
Click here to learn more about the Graves Ophthalmopathy Market Landscape
The Report Covers the Graves Ophthalmopathy Epidemiology Segmented by:
Graves Ophthalmopathy prevalent cases

Graves Ophthalmopathy diagnosed cases

Graves Ophthalmopathy treatment cases

Graves Ophthalmopathy incident cases
Graves Ophthalmopathy Market Outlook
Graves' Ophthalmopathy treatment in the US is entering a new era with changing dynamics. To this date, only one drug has been approved by the US FDA to treat Graves' Ophthalmopathy: insulin-like growth factor-I receptor antagonist TEPEZZA.It is worth mentioning that the European Group on Graves orbitopathy (EUGOGO) clinical practice guidelines 2021 recommends IV methylprednisolone in combination with oral mycophenolate sodium (or mofetil) as the first-line treatment for moderate-to-severe and acute Graves' Ophthalmopathy, and in the more severe forms of moderate-to-severe and acute Graves' Ophthalmopathy, including constant/inconstant diplopia, severe inflammatory signs and exophthalmos >25 mm, IV methyl-prednisolone at the highest cumulative dose (7.5 g per cycle) as monotherapy represents an additional valid first-line treatment.The current market has been segmented into different commonly used drugs based on the prevailing treatment pattern across the 7MM, presenting minor variations in the overall prescription pattern. Corticosteroids, immunosuppressants, neonatal Fc receptor antagonists, IL17A protein inhibitors, Insulin-like growth factor-I receptor antagonists, and others (rituximab, tocilizumab, eye drops, pain killers, supplements like selenium) are the major drug classes that have been covered in the forecast model.
Key Companies Working in the Graves Ophthalmopathy Market:
Immunovant Sciences

Novartis

Viridian Therapeutics

Sling Therapeutics

Regeneron Pharmaceuticals

ValenzaBio
And many others
Graves Ophthalmopathy Therapies Covered and Analyzed in the Report:
Batoclimab

Secukinumab

VRDN-001

Linsitinib

Aflibercept

VB421
And many others
Learn more about the Key Companies and Emerging Therapies in the Graves Ophthalmopathy Market
Table of Contents
Key Insights

Graves Ophthalmopathy Introduction

Executive Summary of Graves Ophthalmopathy

Disease Background and Overview

Epidemiology and patient population

Graves Ophthalmopathy Emerging Therapies

Graves Ophthalmopathy Market Outlook

Market Access and Reimbursement of Therapies

Market Drivers

Market Barriers

Appendix

Report Methodology

DelveInsight Capabilities

Disclaimer
Learn about the detailed offerings of the report @ Graves Ophthalmopathy Market Outlook
Media Contact
Company Name: DelveInsight Business Research LLP
Contact Person: Adya Kaul
Email: Send Email
Phone: 9193216187
Address:304 S. Jones Blvd #2432
City: Las Vegas
State: Nevada
Country: United States
Website: https://www.delveinsight.com/consulting/due-diligence-services