Sir Dr. James Dentley, a world-renowned motivational speaker, trainer, coach, business sculptor and philanthropist, will be speaking at the upcoming I Am Greater Summit Retreat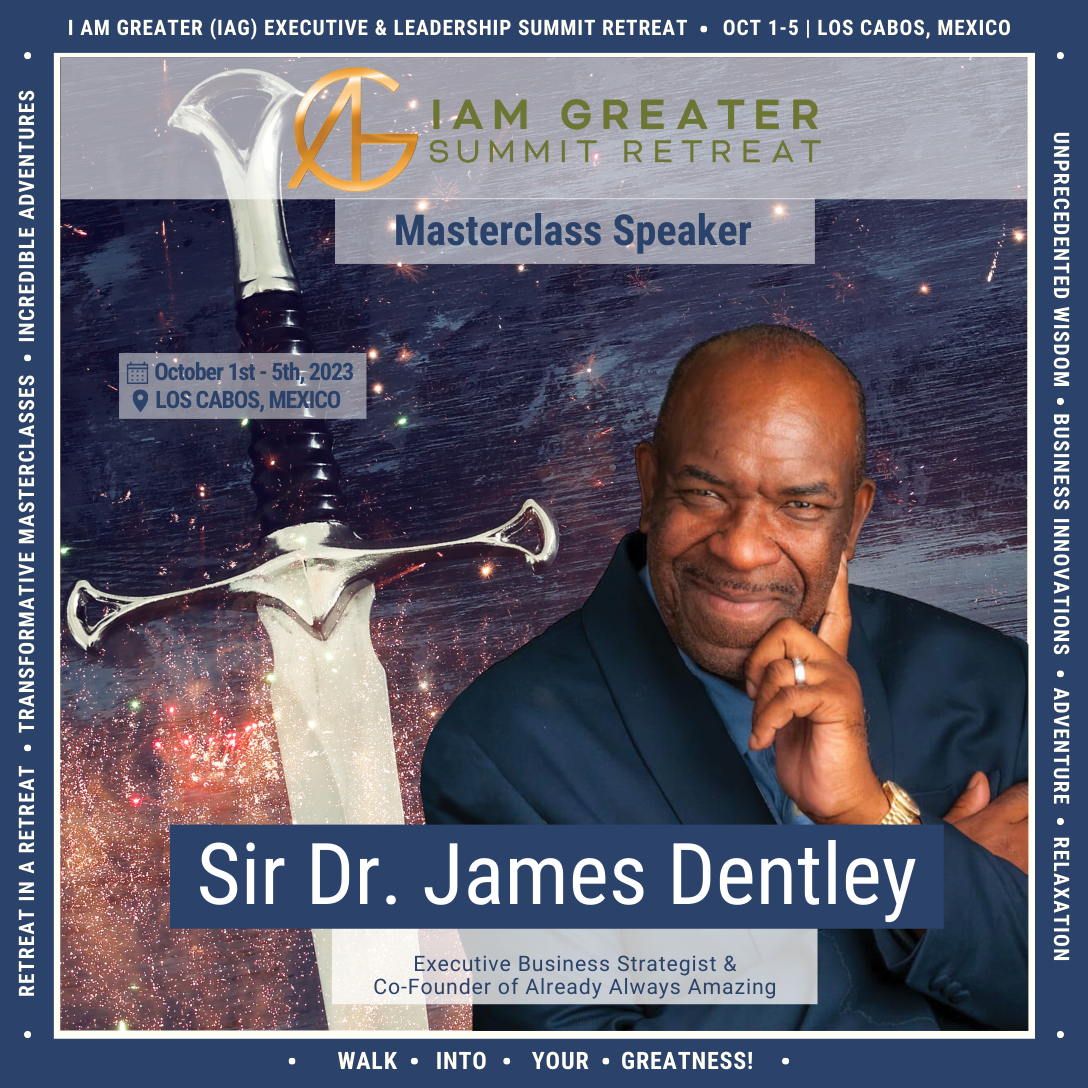 "Sir Dr. James Dentley to headline the I Am Greater Summit Retreat in Los Cabos, Mexico. This transformational event will feature expert speakers, interactive workshops, and networking opportunities. Don't miss the chance to learn from Sir Dr. James Dentley, an international speaker, best-selling author, and personal development coach. Register now for this life-changing experience!"
Sunrise, FL – Sir Dr. James Dentley, a world-renowned motivational speaker, trainer, coach, business sculptor and philanthropist, will be speaking at the upcoming I Am Greater Summit Retreat organized by Write Choice Consulting Firm. The retreat will take place from October 1-5, 2023, at Hacienda Del Mar Los Cabos Resort, and will focus on "Come Great, Leave Greater!"
Sir Dr. James Dentley was knighted in 2022 by The Royal Order of Constantine the Great and Saint Helen. The Sovereign and Royal House of Cappadocia, and The Royal Order of Constantine the Great and Saint Helen and today holds the title of Grand Knight Cross and Grand Prior of Illinois.
Sir Dr. Dentley is a sought-after speaker who has shared the stage with some of the world's most respected leaders, including Les Brown, Bob Proctor, Kevin Harrington and world leaders as well. He has coached and trained over 1,000,000 individuals and helped businesses generate billions of dollars in revenue.
As a master class speaker at the retreat, Sir Dr. Dentley will deliver a dynamic presentation on The Psychology of inward and outward communication. Attendees will have the opportunity to learn from Sir Dr. Dentley's extensive experience and expertise and will gain practical knowledge and strategies to help them achieve success in their personal and professional lives.
"We are delighted to have Dr. James Dentley join us as a master class speaker for this year's retreat," said Telena Paris, CEO at Write Choice Consulting Firm. "His inspirational messages, coupled with his vast experience in coaching and training individuals and businesses, make him an ideal choice for our attendees. We are confident that his master class will be a highlight of the retreat."
The I Am Greater Summit Retreat promises to be an exciting and rejuvenating experience for attendees, with a variety of activities planned to help them connect with nature and find balance in their lives. Attendees will have the opportunity to participate in discovering the underwater world in Los Cabos, rock climbing, extreme sports activities, golfing, hiking to the waterfalls at Santiago, or just taking a load off by having a spa day, and engage with the global elite leaders such as: Jeffrey Hayzlett, Telena Paris, Jeremy Tillman, Harrison Klein, Vanessa McBee, Dr. Jeff Rocker, Nikki Oxley, Dame Dr Kara Scott-Dentley, Kiamesha Wilson, Debra Poneman, Benaisha Poole-Watson, and Felisha Monet to name a few.
For more information about the I Am Greater Summit Retreat and to register for the event, please visit www.iagreater.com.
About Write Choice Consulting Firm:
Write Choice Consulting Firm is a certified SBE & CBE minority woman-owned international organizational & grant/fund development consulting firm and professional development learning institute. We are committed to providing a range of high-quality advisory and organizational support services to non/for-profit, public and private organizations, with a focus on small and medium-sized businesses around the world For more information about our organization, please visit www.writechoiceconsult.org.
Contact: Charity Christensen, Marketing Specialist, Write Choice Consulting Firm 877-844-GREAT (7328) [email protected]
Media Contact
Company Name: Write Choice Consulting Firm
Contact Person: Charity Christensen
Email: Send Email
Phone: 8778447328
Address:1560 Sawgrass Corporate Parkway 4th Floor
City: Sunrise
State: Florida
Country: United States
Website: www.iagreater.com/