Mjolnir Ti: Unleashing the Power of Norse Mythology through Functional Men's Jewelry
A new and refreshing company started to manufacture men's Jewelry with functional elements hidden inside, the designs inspired by Norse mythology and called Mjolnir Ti – Asgardian Titanium Jewelry. Each piece is inspired by the legendary hammer of Thor and Loki's cunning deception, and is designed to withstand the toughest outdoor conditions, making it the perfect accessory for adventurers and fans of Norse mythology alike.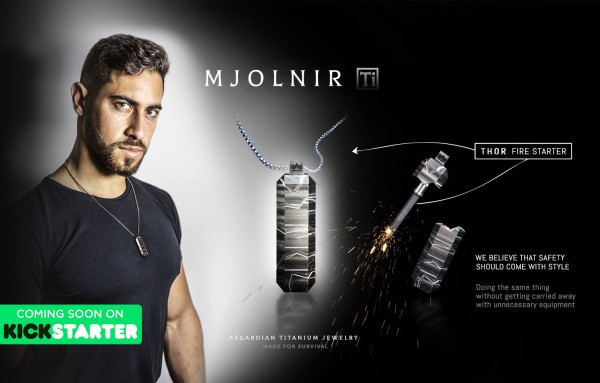 The jewelry is made using unique CNC machines that can only be operated by skilled artisans, ensuring that each piece is not only fashionable but also highly functional. They use only the highest-quality materials available, and each piece is crafted with intricate design details and superior construction.
The highly anticipated Kickstarter campaign for Mjolnir Ti has officially launched, offering early backers an exclusive opportunity to save up to 42% off the manufacturer's suggested retail price (MSRP), and even more enticing discounts when purchasing bundles. Supporters can indulge in a diverse range of designs and finishes, including the elegant genuine titanium color (Silver) and the striking black titanium (Plasma coating).
To achieve the captivating black color option of Mjolnir TI, a cutting-edge plasma coating technique is employed. This method not only guarantees exceptional durability but also enhances resistance to wear, ensuring that each piece withstands the test of time.
They called it the world of Mjolnir TI, a jewelry collection that reveres the iconic hammer of Thor and pays homage to Loki's deceptive prowess. With its intricate design and enchanting allure, Mjolnir TI encapsulates the essence of these mythical characters, empowering wearers to conquer obstacles with audacity, resilience, and unwavering strength.
Mjolnir TI is an unparalleled fusion of style and functionality, unrivaled by anything in the market. By employing state-of-the-art CNC machines and sourcing only the finest materials, the company ensures that every piece embodies unmatched quality.
This is your exclusive opportunity to own a truly extraordinary piece of jewelry. Back the Mjolnir TI Kickstarter campaign today and join the ranks of those who seek adventure, strength, and unparalleled style.
For more information about Mjolnir TI and to support the Kickstarter campaign, please visit: www.kickstarter.com/projects/tomerarbel/mjolnir-ti-asgardian-titanium-jewlery-made-for-survival?ref=45p5t3
About Mjolnir TI
Mjolnir TI is a trailblazing Asgardian Titanium Jewelry company dedicated to delivering exceptional accessories inspired by Norse mythology. With a perfect balance of style and functionality, Mjolnir TI empowers individuals to embrace their adventurous spirit and channel the power of Thor and Loki in their everyday lives.
Media Contact
Company Name: Mjolnir Ti
Email: Send Email
Country: United States
Website: www.kickstarter.com/projects/tomerarbel/mjolnir-ti-asgardian-titanium-jewlery-made-for-survival?ref=45p5t3